Tuesday, February 28, 2006
Honk Them Home!
You guys are going to have to trust me on this one, it DOES have a point!
I work in the restaurant business and have been through scores of training sessions in my many years and this team building story came to my mind yesterday and I just can't let it go so I'll share...
You all know that geese fly in a V formation, South for the Winter and North for the Summer but, did you know that they take turns leading the V? They all lead for a while then go to the back of the line and enjoy the ride (like drafting in NASCAR). If one goose gets hurt the entire formation heads to the ground to make certain that he/she is OK, if not one goose always stays with their injured comrade. Which, as I understand it is kind of like the Marines who never leave a man behind.
Finally, my last goose fact is this: while the geese are flying they get very tired and miserable up there and somtimes want to just quit, fly a little slower or stop to rest and feel sorry for themselves. Well, when this happens all their goose buddies HONK THEM ON in support. They just honk and honk as long as necessary to give their friend the encouragement and support to keep flying. That's why they are such noisy fliers!!!
I think this story is so important to me right now because I feel like one of those tired geese and my fellow geese are constantly honking me on in my hours of need so that I can keep flying. Also, as you may have heard we have a package of referrals missing at Great Wall and I think of these as our baby geese and feel this intense need to honk my heart out to bring them safely into Austin and onto the computer screens of their loving parents.
The moral of the story...just keep honking and we'll soon have our babies in our arms!
Lori, this one's for you! HONK, HONK, HONK, HONK, I'll keep honking until Katie Starr is safely in your arms!

Friday, February 24, 2006
90 Families & 12 Days Closer to Kacey
The stork is on the way to Great Wall and boy does she have a mouthful! We expect that 90 babies will meet their families from this month's delivery. GW's only log in date (LID) in the batch was May 17th but it was a doozy and covers my buddy Lori W. http://www.journeytokatie.blogspot.com/ who I am sure is dancing in the streets of Las Vegas as we speak!!!
You may ask...are you upset that May was not completed in this batch? Well sure I am BUT on the other hand this is a BIG batch of referrals for GW and I've heard that CHI has a record breaking bunch on the way too so that means a whole lot of people are out of my way and on to pick up their babies. There's no way around these folks, they need their babies and have been waiting longer than I have so I just need to get them matched and on their way, THEN and only THEN will it be my turn. So Sonia, Hugh (6/2) and the Great Wall crew from 5/31 please collect your referrals as soon as possible--I want to be next.
Hang in there Sonia, you'll be making travel plans very, very soon.
Congratulations everyone, I can't wait to see those pictures!

Monday, February 20, 2006
Terribly Quiet!?!?!
And I thought Sundays were bad! Now we have a holiday Monday to obsess about the quiet, I need some action...PLEASE. This quiet is getting to me, give me some TA's or referral rumors and I'll be one happy little Mommy to be.
Tonight I'm starting to sleep with the blanket that I'm sending to Kacey in her care package, maybe it will help me sleep and bring some good news from CCAA. I've been having crazy dreams lately, nothing that I can remember but they are not good I'm normally a great (hard, long time) sleeper so maybe this is just God's way of getting me ready to wake during the night and take care of sweet Kacey!!! I certainly hope so--but if He could just make me need a drink of water or to go to the bathroom I'd appreciate it--the dreams are CREEPY.
I'm headed out to the new Georgia Aquarium with some friends today. I hear it's fantastic and everyone is very excited about our visit. I'd take some photos and post them BUT I'm currently using a disposable camera as mine got crushed in Korea. Thank goodness I have the extended warranty from Best Buy and they have it now for repair or replacement :) I saw a very sassy new little model if they can't fix it, big screen for my old eyes and very small--that's best case scenerio!
Happy President's Day!
P.S. Martha Stewart is making Cherry Pie on her show and I LOVE Cherry Pie :)
P.P.S. Lisa & Daphne I need to know how to add clip art to my blogs, this particular entry really needed a nice drawing of George Washington I think!!

Thursday, February 16, 2006
Seinfeld
This BLOG entry is like a Seinfeld episode...it's about nothing at all! No news, no good juicy rumors, nothing!
So for today I'll just list the things that I'm WAITING to hear:
Referrals are on the way!

What dates the referrals cover?

When the next referrals are coming!

What dates the next referals will cover?
Do you see a theme here? This is the news that I wait for (pray for) daily that may possibly turn my next BLOG entry from a Seinfeld episode into, I don't know, maybe an exciting episode of 24 :)

Tuesday, February 14, 2006
Happy Valentine's Day Kacey!
Dearest Kacey,
This will be our last Valentine's Day apart. Next year there will be candy, cards and all kinds of fun for us! In the past V-Day wasn't one of my favorite holidays but with you around I'm sure it will be filled with pinks hearts and loads of love.
I hope you had a wonderful day in China, I'm thinking of you all the time and wishing you were here with me :) Sleep well little one and have sweet dreams of a happy life.
Love always,
Your Secret Valentine

Sunday, February 12, 2006
Thanks for the Company!
Well this is it for me, it's Monday morning in Sydney and I'm headed home! Thanks so much for coming along on this trip, I've taken 7 flights and traveled thousands of miles and still didn't get to slip into China and bring Baby Kacey home--BUMMER :)
I started the trip very down in the dumps but now I'm 2 weeks closer to my referral and I think (know) I'm going to make it!! Your comments helped me through and made me feel so much closer to home. Travel is fun but it gets a little lonely out here!!
Australia was like a big dessert at the end of dinner, I love it here and got to spend time with one of my favorite Outbackers and enjoy time with his family. They have a beautiful 9 week old daughter and 2 terrific little boys aged 4 & 6. There's nothing like a couple of sandy, dirty, little boy hugs to make you remember what is important and that happiness can be found on any continent at any time...you just have to embrace it (and not worry about getting your clothes dirty). We had my final dinner in Sydney at a beautiful restaurant on the beach and while the food was good, watching the boys run the shore and chase the waves was the best entree. Oh yeah, gettling to snuggle with little Ava was the whipped cream on the sundae, she's a DOLL. She's going to be petite, sweet and beautiful just like her Mommy!!
My next entry will be from the good ole' USA.
I'm now going to tap my sneakers together and chant, "there's no place like home, there's no place like home", board a United 747 and like magic I'll be there.
COME ON REFERRALS--GET ON A PLANE IN CHINA AND JOIN ME!!!

Last Postcard from EDGE, the very EDGE!
A landmark in Sydney the Harbour or Bay Bridge (whatever you call it), those are little tiny people climbing it. My friend Mark here in OZ threatened to buy me a ticket to climb...that went over real big, NOT.


This is it for this trip and what a great way to end. Here's the beautiful Sydney Opera house, one of my all time favorite buildings!


Thursday, February 09, 2006
Post Card from Korea--with my fellow Outbackers!
Zeus, Julie & Anes in Korea. Below is my name and a welcome message from our advertising agency in Korean. I was very honored.


Wednesday, February 08, 2006
No New Postcards!
I'm in cold and snowy Seoul, S. Korea and there's not much to photograph here. I'll try to scare something up today or tomorrow. All is well but I'm freezing my buns off.
The next (and last) stop on this trip is Sydney, Australia...a very photogenic city :)

Sunday, February 05, 2006
Postcards from the Edge--Japan
Second view of Mt. Fuji from the bullet train headed to Nagoya from Tokyo. A 6 hour car trip took 1.5 hours. What a ride, it felt like we were traveling on air!!!


A view of Mt. Fuji from my hotel in Tokyo. Such a majestic site.


Surfin' Kacey's Souvenir from Hawaii
I got this outfit for when Kacey spends the day with one of her favorite uncles, Kevin, at his surf shop in Ft. Lauderdale (Liquid Addiction-corner of Sunrise & A1A). She'll be styling while meeting all the boys! When she spends the day with her other favorite uncle she'll need a chef's hat and white coat for the restaurants!!! She already has an apron with her name on it :)


Emily Fubo is beautiful...
...and she has a date with her Mommy and Daddy. They are headed out to Hong Kong on February 15th to arrive on February 17th back home on March 3rd. Could the entire gang in GA be much more excited? I don't think so.


Saturday, February 04, 2006
Postcards from the Edge V3
Walking in paradise!


If you'd like company head towards downtown Waikiki!


Make Workouts FUN!
Walk on Waikiki beach and you'll never want to stop! I could have walked all day and that's a FIRST. Here are a few photos of my route, one day I did the nature portion and the next I headed straight into tourist crazy Waikiki. Most of the guest were Japanese so I was well prepared for the next stop on this trip...Tokyo. I'm currently in Tokyo so, so close to Kacey and the rest of our little ones in China but so far!
More photos tomorrow, I left my USB cord in the hotel in Hawaii so I'll need to borrow one in the office here! Let's hope we use the same technology since you can see Mt. Fuji from my hotel room and I have a great photo :)
I'm taking the bullet train down to the Outback Steakhouse in Nagoya today (Sunday, 11 AM), I've never been there and I looking forward to it. The city recently hosted the World's Fair and has tons of things to see and experience.
More later, keep those comments coming it's makes me feel a bit closer to home.

Thursday, February 02, 2006
The sun moves on to wake Kacey in China.


Will Break for Sunset!!! Post Cards from the Edge V2
Will break for sunsets! These photos were taken by the side of the road in Maui. That's a heck of a commute :)


Wednesday, February 01, 2006
Traveling & Stress
I'm currently on the road traveling for business and I got an email from Great Wall with the lovely news that they estimate a referral for me in June or July, JUNE OR JULY that's 12 months from my log in date of July 8th. This news was not welcome from the people or originally told me 6-7 months to referral. I'm mad as HELL and I HAVE to keep taking it.
So, to that end I'm going to do a little travel log from my trip to try and keep my spirits up it's titled "postcards from the edge".
The first entry is from Honolulu, Hawaii where I'm working with our local Outbackers on their 2006 marketing plans. I ran outside before my meeting and put my feet in the sand. I was quite a sight, fully dressed and sitting on the beach, I trailed sand to the remainder of the day's meetings but I think that you will agree it was worth it.
Look for the next entry, a Walk on the Beach, the photos will surely make all my readers want to walk to China with me!!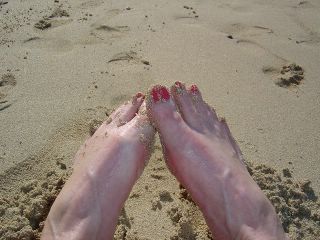 Post cards from the EDGE.