Wednesday, August 30, 2006
And then there were FIVE...
My wonderful friends Jill and Stephanie (2 of the ladies that lunch) are currently in China picking up their daughters; Liza and Chloe. We can't wait to welcome them home, now there are five of seven accounted for we just need to get Kacey home and get the CCAA moving on a referral for Cookie Shanahan we want all of our babies home by Christmas!!!

I love this chair, Danielle, Peyton & Brooke bought Kacey a time-out chair it is the cutest thing ever and even though I'm SURE she'll never need a time-out I know she'll LOVE to rock!!!

Such a sweet girl, Peyton was a huge help at the shower she greeted all guests and made sure that they all had their ladybug stickers!

All that's missing is Baby S, Jill, Liza, Steph & Chloe can't wait to have us all together!

Kailee loves Kacey's new blanket that MiMi Betty made her it's beautiful softer than you could ever imagine!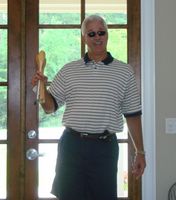 You know you have great friends when even their husbands pitch in at the shower. Thanks Tim!

Even Nana got a gift from the wonderful Heidi!

Babies love presents, just ask their Mommies!
I'm in BIG trouble with my Aunt Beckie who is having to scour my buddies' blogs for shower photos so I decided to get busy and post some photos! What a day I had, the generosity of my family and friends is just unbelievable! Kacey is one lucky girl to be so well loved and welcome.
Thanks to everyone for spending their Sunday showering Kacey and I with happiness!!!
P.S. It was so darn hot on Sunday, I was sweating like a pig and having a terrible hair day, the sad thing is that it's even hotter in China so I am destined to photograph like this during my entire trip:( Oh well, you won't be able to wipe the smile off my face and that HAS to count!!
P.P.S I STILL can't label my photos, Lisa S. has been trying to teach me to do it for months now. So we will do it old fashioned way--photo #1 is me, Kacey's first babydoll and my shower hostesses with the mostesses, Danielle & Augusta, #2 Kacey's custom candybars, very cool Nana and quite tasty, #3 Me & Mom (aka Kacey's Nana), you will all think I look like my Mom, that is until you see me and my Dad...that must mean that they look alike!

Monday, August 28, 2006
Where is Kacey?
I've neglected to post a map of China showing where Kacey currently resides, here it is! She is in Lu'An which is in Anhui Province (it's a green one just above Jiangxi). The capital is Hefei and we will be staying there when we travel to meet her, as I understand it the trip is about 2 hours and the babies will be brought to Hefei to meet their forever families--I can't wait!
She won't be there for long though, Nana and I leave on September 13th with a planned "gotcha day" the 18th, below is our exciting flight plan--did I mention that I was ready to go? Well I am!
Departing!!!
Wednesday 13SEP Continental Air Flight #1154 leave ATLANTA @ 8:15A
Arrive NEWARK @ 10:33A Wed
Continental Air #89 leave NEWARK @ 12:10PM
Arrive BEIJING CHINA @ 1:45P (the next day, September 14th)
Coming Home!!!
Thu 28SEP Northwest Flight #10 LV GUANGZHOU @ 8:20 AM
Arrive TOKYO-NARITA @ 2:00PM
Leave TOKYO Northwest Flight #20-NARITA @ 3:25PM
Arrive MINNEAPOLIS @ 12:05PM (Kacey becomes a US citizen)
Leave MINNEAPOLS/S Northwest Flight #394 @ 3:25P
Arrive HOME, 6:54P --And they lived happily ever after...see you at the airport!

Thursday, August 24, 2006
Consulate Appointment-CHECK!
Could my day be any better, yes, it could be September 13th and I could be off to China. CA's are confirmed and following is our schedule for China, we are going 1 day earlier that the group!
Tentative travel schedule:
Depart U.S. on September 14, 2006 (Julie and Nana leave September 13, 2006)
Arrive in Beijing on September 15, 2006
Beijing Tour on September 16, 2006
Fly to Province on the morning of September 17, 2006
Gotcha Day- September 18, 2006 (upon confirmation with the Beijing office)

Fly to Guangzhou on September 22, 2006
AC appointment- September 26, 2006 at10:00am
Family goes to AC to pick up passport with visa and take oath – afternoon - September 27, 2006
Depart China- after 9pm earliest on September 27, 2006 or anytime September 28, 2006
I'm so close I can almost smell the sweet smell of baby lotion!!!

Wednesday, August 23, 2006
Mommy's Coming!
Hang on Kacey Mommy is coming! Great Wall received our travel approvals on Monday and has asked for consulate appointments in Guangzhou for the week of September 25th, this is the last step in the adoption process and very important. They are estimating that we will be wheels up and off to China on or about September 13th, Nana and I are going one day before the group so that I can get some work done in Beijing. Now it looks like much of our travel group is going to go early too so Nana will have lots of friends to hang out with and see the sights.
The big question is when does Kacey officially join our family? If this schedule holds true I will receive her either Sunday, September 17th or Monday, September 18th this depends on her CWI proceedures. Most probably it will not be until Monday but still it's SOON, she will be a beautiful 23 months old on "gotcha day"!
I'll post our confirmed travel agenda as soon as I get it, next stop Beijing!

Sunday, August 20, 2006
Get by with a little help from my friends....
When thank you just isn't enough, you borrow song lyrics!
There are people who enter your life just when you need them most and this group of beautiful women are a perfect illustration of that fact! During the past year they have listened to me whine, shared their time and wonderful families with me, celebrated the most joyous day of my life and allowed me share some of theirs. Would I have made through this long journey to Kacey without them, yes, would it have been so much fun...HECK NO.
Our group is growing by leaps and bounds with the addition of Emily (who couldn't be in the photo), Kailee and Amelia (pictured), and our newest additions who join their families in China
today
(Liza & Chloe), next Kacey will join the party and soon there will not be a restaurant in metro-Atlanta with enough high chairs for our group! Finally, we are all impatiently awaiting Cupcake (baby Shannahan) to arrive in our lives, I'll be carrying my ladybug purse until she gets here :)
As our girls grow they will know that they have friends, friends who looks like them and who can understand their unique situations and as we grow as mothers we will feel the strength of our fellow moms that understand us too.
Soon I'll be heading to China to meet Kacey and I'll take all of these women (and their families) with me in my heart plus a whole lot of of others from around the country who have propped me up and kept me laughing. I think that the heart is the one body part that you want to continue to grow as you age and I feel very blessed that mine continues to expand.
Lisa, Sonia, Daphne, Cindy, Stephanie, Jill thank you FOR EVERYTHING!
Love,
Julie (Kacey's Mommy)

Friday, August 18, 2006
Alive & Kickin' In Brazil
When your Mom ask why you haven't posted an entry for a week you know that you are getting behind!!!!!!
I'm alive, kicking and working in Brazil this week without my camera cord :( I promise that I'll catch up when I get back tomorrow complete with pictures and maybe even a surprise or 2.
TA's (Travel Approval) for this last batch of referrals are starting to arrive and the tension is mounting, I am ready to go. Failure to travel before the October holidays is unacceptable I hope all the powers that be understand that fact!!!!
BTW, Brazil is positively gorgeous during their Winter!

Sunday, August 13, 2006
Information on the Red Book of Questions!
Hi All--I've received a few emails regard the Red Book that I sent in Kacey's care package so I wanted to post Maureen's web site and email information. She does beautiful work and while the Red Book is not featured on her web site it does show the quality of her merchandise.
The book is beautiful, easy to use with pages in both English and Chinese so that they are easy to follow along and small enough to fit in a shoe box. There is a long list of questions and I was careful to only check the ones that were most important and that I did not already know the answers to. The staffs are very busy and I did not want to burden them with anymore than absolutely necessary!!
I don't have a good photo of the book (wish I did) but I know that Maureen will be glad to send you more info if you email her. I bought not only the book of questions but a matching travel journal that I gave to my Mom for the trip, I figured there would be a much greater chance of her journaling than this first time Mom who may not even be able to brush her teeth in the morning :)
Maureen's Contact Information:
collector182@hotmail.com
http://www.sharpbooks.com/about.htm
Maureen Sharp

Tuesday, August 08, 2006
Love in a shoebox...
How much love can you fit into a shoebox? A lot if you wear size 10's!
I've packed and unpacked my box 20 times and now I must stop and take it to the post office for the trip across the big water to the Lu'An CWI. If I had wings I'd take it myself and drop it directly on the doorstep:)
With much thought and many mind changes here's what I finally included for Kacey and her friends at Lu'An: red book of questions for the Nannies to answer, camera, cozy blanket (thanks uncle Jim), Snoodle (comfort item which I've been sleeping with and kind of miss), photo album, bright colored picture book, beanie baby, gum and hard candy for the nannies, crayons and paper for the older children and finally a Mickey Mouse plush toy from Nana and Grandpa in Florida. I know that these are things that they need at her CWI and I have absolutely no problem with them keeping them when Kacey leaves, except of course the camera and question book which I hope that she brings with her! I've purchased doubles of everything and will bring it with me to China, maybe she will not only recognize me from my pictures but from her goodies too.
I went back and forth on an outfit and finally decided not to include one, I would like for her to have something special from the CWI and I think that her clothes would be a wonderful item to preserve for when she is older. I'll go shopping and get a couple of outfits (complete with split pants) in China before we are united so that I can replace the outfit that she comes to me in.
P.S. A major omission from Monday's entry, I forgot to wish Nana Susan a very happy birthday! I know that she had a good one and is very happy with her gift, a trip to China to meet her first grandchild :)

Monday, August 07, 2006
Another Milestone!
Ok, I've been a mother one week today and already I'm a bad blogger and way behind on the info. This parenting is hard work, there's care packages to put together, paperwork to be sent in, pediatricians to meet with, daycare worries, etc, etc, etc, WOW, I thought that the paperchase was crazy I need to hire Pam E. full time to help me.
OK, on to the big stuff...
Last Wednesday was a very big day (major milestone) when I sent back Kacey's referral acceptance, it wasn't due to GW until Friday but I was so scared that something might happen to it that I made sure it was there a day early :) On Friday it went "return stork" back to the CCAA in Beijing! Side Note: seems like there should be an easier way, maybe only the no's have to be sent back, get those TA's moving a week earlier??? I don't know it might work. End Side Note Anyway, I'm now on the next and to me the most painful part of the wait (I know all those who listened to me whine for the past year are cringing right now) the wait for travel approval. My girl is waiting for me and she has had to wait waaaaay to long in my opinion so I need to get going.
Just in case CCAA is in turbo mode with travel approvals I went ahead and put Kacey's travel wardrobe together, she is going to look quite snappy if I do say so myself, this photo doesn't even show the shoes in 3 different sizes!!!! Don't worry travel mates all I'm bringing for myself is a toothbrush so I won't be over the 44 lb limit:) You'd all be surprised how small baby clothes get in space bags.
Next entry, the care package, a labor of love.!

Friday, August 04, 2006
The Big Day!
I thought you guys might get a kick out of seeing referral day at my office. You've got to know that I was as serious I've been in years as I made absolutely sure that I wrote everything down correctly...there was not even a hint of a smile until I opened the picture. Just as I was putting Krista on speakerphone word got around my office that GW was on the phone and a huge cheer went up, she was laughing when I finally said hello :) What a day, people say you will never know what it feels like and they are right, you sit around 12+ months waiting for something to happen and then BAM!

Wednesday, August 02, 2006
Thank you all so much!
Your kind posts and emails have been priceless to me. Many were no-reply so I couldn't write back but thank you, thank you, thank you! I think that she is quite fine and darn pretty too!!
As an extra thank you gift I'm posting the new picture that I just got in my precious FedEx package from Great Wall this morning--get a load of those sweet cheeks. Oh how I love, love, love that package, can't wait to send it back.
I've got lots to tell you guys about my sweet girl but it'll have to wait until tonight, the package had so much wonderful information I have to sift through it all!!!!

Tuesday, August 01, 2006
Let's talk about Kacey...
Monday it was all I could do to post a picture I was so excited. Now I've had a couple of days to process and I received my magical FedEx package and I've got lots to tell you guys about Kacey...
She has 9 teeth, better to eat the Steaks at Outback!
She is a deep sleeper, oh let it be true.
She knows what NO is, that's a good girl.
She responds to others, don't know exactly what that means but it sounds good.
She is shy and quiet, like my Dad and brother Jim
She has a ready smile, I can't wait to see that :)
She is fond of her caregiver, I need a better nanny gift I think!
She is quick to learn, I love that one
She is in good health, thank heavens!!!
She first smiled on January 6, 2005, how I wish I had been there!
She wakes with the seasons, 8:30 in winter and 7:30 in summer, I swear it says that!
She goes to bed at 7:30, same time every season I guess
She has feet that measure 4.73 inches, I took my ruler to the store size 5.5 to 6 will work very nicely!
She cooperates when her clothes are changed, of course she does she's a good girl!
She can build a tower of 8 blocks, that seems good to me but I'll leave the final verdict to all those teachers out there.
She is fond of quiet, this was a little perplexing at first but then I realized that I'm very quiet at home and love to be in the house with no TV or Radio on and since it's just me now it is quiet. We should be just fine being quiet together or we can just turn up the music and raise a little ruckus!
She has been at the CWI for all but 2 weeks of her life, that one makes me sad, not that she wasn't well taken care of but that she wasn't at home with me where she belonged.
She was 21.78lbs & 31.91" tall in mid April.
She is in the 75th percentile for girls according to the chinese growth charts--more excellent news.
She is just perfect to me!